The Best Way to Move WordPress Sites
Automatically migrate your WordPress site to a new host or URL on demand
1. Enter Source Site Settings
Sign up
or
log in
then enter your site URL & optional cPanel login.
(or manually enter your database and file transfer settings)
2. Enter Destination Site Settings
Just like step one!
3. Start Migrating right away!
Automatically migrate your site's database & files while updating URLs, paths, serialized data, configuration files, & more.
Advanced Options
are available.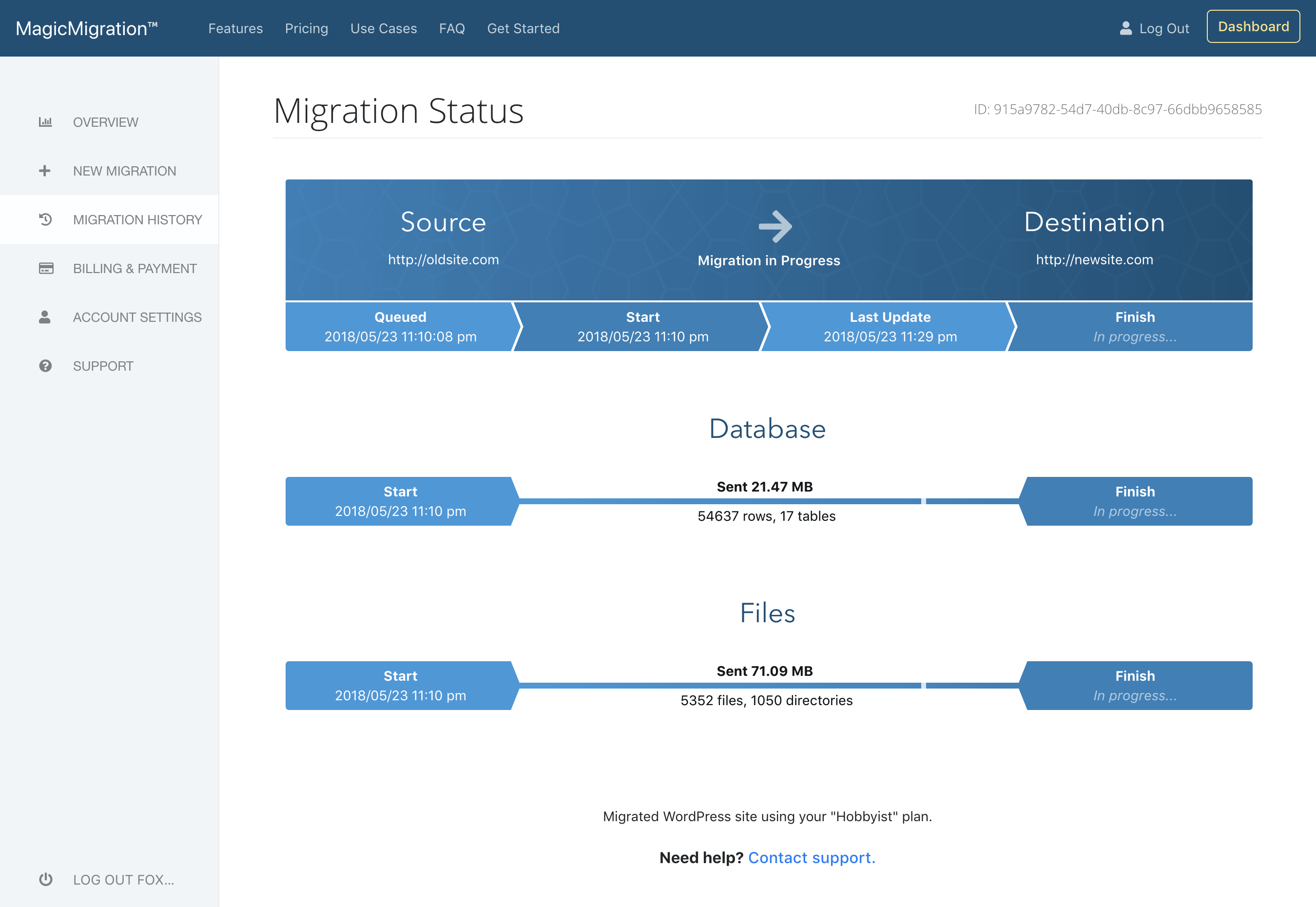 Nothing to download or install so you can start migrating in minutes!
Our automated magic runs on our servers, not yours, allowing it to play nicely with any server.
Easy & Automated
Answer a few questions then our automated wizard starts migrating your site & data -- like magic...
Migrate Everything
Files, database, media, posts, pages, themes, plugins, configuration, etc. Optionally include non-WP data.
Gentle on your Server
Doesn't push hosting limits like disk I/O, memory, cpu, or runtime so it works great with practically any host.
Features
Migrates everything
Copies files, database, configuration files, media, posts, pages, and more while updating URLs and paths.


Change your host, URL
Easily move to a new server, domain, subdomain, subdirectory, or entirely new URL. It's completely flexible.


Auto-detects settings
Database settings, paths, and more are auto-detected to make migration simple. It's easy for anyone.


cPanel automation
If using cPanel provide your login then your site, database, & ftp will automatically be set up like magic!


Nothing to install
The magic runs on our servers, not yours, so there's nothing to download or install. Say goodbye to finicky configurations or plugin conflicts.


Migrate at the beach
On a hotspot, hotel wifi, an airplane, or have a data cap? Your site is transferred using our bandwidth so your data plan & battery are spared.


99% host compatibility*
Shared, dedicated, VPS, fast, or slow as molasses. All that's needed is a connection to the database (eg. mysql, MariaDB) and files (eg. ftp, ftps, sftp).


Gentle on your server
Our solution won't slow down your site. Hosting limits like disk I/O, memory, cpu, or runtime aren't pushed so your site keeps running smooth.


---
Migrates WordPress
Fast migrations
Step by step wizard
Secure and encrypted
No wait time
Automated and on demand
Email notifications
Start process & leave
By WordPress experts
Easy to migrate
Transfer speed limiting
Start migrating in minutes
Custom database prefixes
File & directory exclusions
Database table exclusions
Incremental file syncing
Handles serialized data
Updates wp-config.php
Migrates .htaccess
Updates URLs & paths
Doesn't store your site data
Migration history
Clone your WordPress site
Dev, staging, & production
Support included
Runs on our servers
No plugin conflicts
Migrate sites 24/7/365
* Sites hosted on platforms blocking file and/or database access, such as wordpress.com, cannot be migrated. Most hosts do not block this access.
Pricing
Choose a plan and start migrating in just minutes
Use Cases
Switching Hosts
You don't have to be locked into your current web host. Whether your current host's performance has gone down or a competitor's prices are better you can easily switch over to a new host.
You can even do this to test out a new host before making the final decision. With the help of your
hosts file
you can preview your site at the live URL before directing all internet users over to the new server.
Cloning Sites
A great way to get started on a new site is to clone an existing one and then make changes from there.

For example, many or our WordPress users have a standard base site with the basic plugins and settings pre-configured the typical way they like and then when it's time to make a new site they clone it to a new server or URL.


Staging & Development
It's best practice to develop and work on a non-live version of your site. Demo an in-progress site to a client on a development site and then once everything is just how you want it migrate it to the live location.

Many users work with three sites for their workflow: Development (where you make your changes), Staging (where you demo your changes to clients), and Production (the live site visitors see).


Additional Capabilities
cPanel Automation

Servers running cPanel, which is included with most shared hosting plans, can enjoy even easier migrations. By providing your cPanel login all server settings will be automatically detecting allowing the migration to run without entering any file or database server settings. Easy migrations!



Manual Settings Entry

By default everything is kept simple and automated. However, power users may choose to override any automated settings for full control over any part of the process. This includes custom file access settings, database settings, and WordPress-specific configuration options.


Advanced Options
Directory & file exclusions
Database table exclusions
Database table inclusions
Customize database prefix
Include all tables, none, or by prefix
File transfer speed throttling
File & database connection limits
Transfer only files or database